Welcome to Insight Ophthalmology, where your vision and eye health are our top priorities. I am Dr. Luna Xu, and I am thrilled to share with you the journey that brought me here and the vision I have for our practice.
A Journey of Excellence
After years of rigorous education and training, I found myself working alongside talented mentors in various ophthalmology practices. During this time, I honed my skills and developed a deep understanding of patient care, surgical techniques, and the business aspects of medicine. One person who made a significant impact on me was Dr. Denise Sanfilippo, a mentor who had built a boutique ophthalmology practice with a strong reputation for exceptional care.
Dr. Sanfilippo presented me with an exciting opportunity to take over her practice as she prepared for retirement. Recognizing the potential to create a medical practice that provided the highest level of care to patients and fostered a supportive environment for the team, I took a leap of faith and founded Insight Ophthalmology.
A Legacy of Excellence
As a graduate of the prestigious Columbia University College of Physicians and Surgeons, I hold a deep commitment to advancing the field of ophthalmology. My time at the renowned New York Eye and Ear Infirmary of Mount Sinai and the Columbia University Edward S. Harkness Eye Institute further refined my expertise.
I bring this knowledge and passion to Insight Ophthalmology, where we use the most advanced technology to ensure that our patients receive the best possible care. However, we also understand that personal connection is equally essential. Taking the time to know each patient individually allows us to tailor treatments to their unique needs and concerns.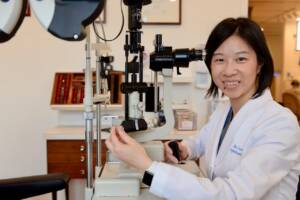 More Than a Doctor
Beyond my professional life in ophthalmology, I cherish my role as a mother of two wonderful children. Balancing my personal life with my passion for providing excellent care allows me to approach each patient with empathy and understanding. Outside of work, you might find me cycling, traveling, or even swing dancing. A well-balanced life helps me stay focused and inspired to make a difference in the lives of those I serve.
Our Commitment to You
At Insight Ophthalmology, we provide you with exceptional care and a personalized experience. Whether you are seeking routine eye exams, specialized treatments, or surgical interventions, we are here to guide you through every step of your eye health journey.
Our practice is built on a solid foundation of excellence, we strive to deliver compassionate and comprehensive care to the Staten Island community.
Thank you for considering Insight Ophthalmology for your eye care needs. We are honored to be entrusted with your vision, and we look forward to helping you achieve and maintain optimal eye health for years to come.
Please do not hesitate to reach out to us with any questions or to schedule an appointment. We are here for you.
Sincerely,
Dr. Luna Xu and the Insight Ophthalmology Team
Top of Form
Bottom of Form
Read more :
Enhance Your Eye Health with Dr. Luna Xu: Your Trusted Ophthalmologist in Staten Island