Revolutionary Dry Eye Treatment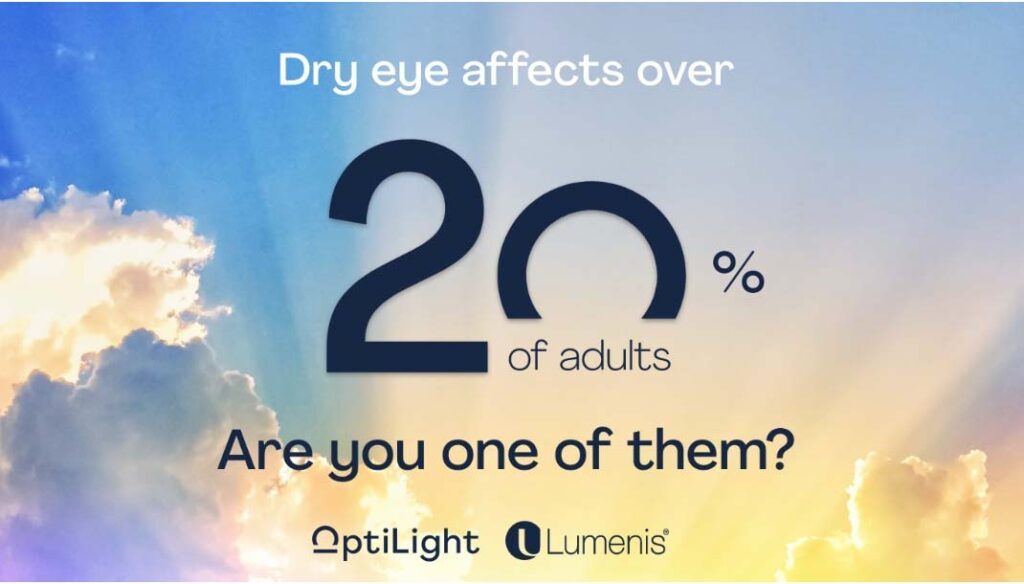 You rely on your vision every day, but irritating eyes can get in the way of living life to its fullest. Not only are dry eyes uncomfortable, but they can also impact your job performance, make daily tasks increasingly difficult, and so much more.
We believe your eyes should be comfortable and clear. We combine the latest know-how with the absolute best technology to find you relief.
Your exam begins with a medical history to identify potential risk factors that could place you at an increased risk for certain eye diseases. During the exam itself, the external portions of your eye will be evaluated for signs of disease or other issues like entropion (inward turning of the lid) that could cause health problems like eye infections. Next, your vision will be evaluated using an array of noninvasive, painless assessments designed to simulate different vision issues to determine how well you see near and far objects and to assess your peripheral vision and depth and color perceptions. The inside of your eye will be evaluated using special eye drops to widen your pupils (dilation) and make it easier to see the retina and optic nerve head. A test for glaucoma may also be performed.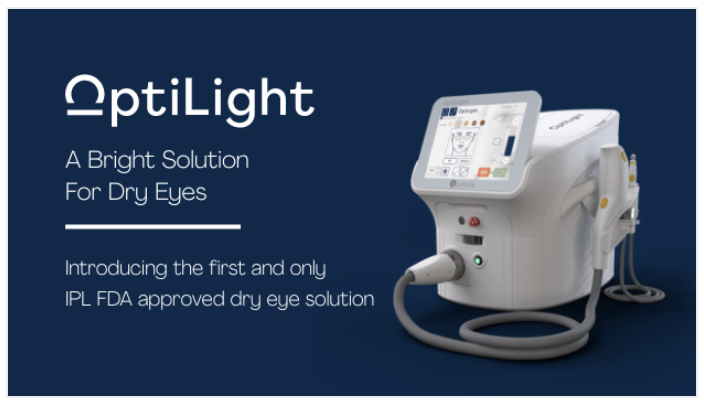 IPL or Intense Pulsed Light is the latest treatment available for dry eye and meibomian gland disease (MGD). IPL has been used for two decades by dermatologists for the treatment of age spots and vascular (blood vessel related) conditions such as rosacea. Many of those patients experienced an improvement in their dry eye. Now IPL has been optimized specifically for long lasting dry eye relief and has emerged as one of the most successful treatments for dry eye and MGD.  Performed in our office in a pain free, no down time manner, IPL is one the most effective in office treatments for long term control of dry eye.
Contraindicated conditions for IPL:
OptiLight by Lumenis is a safe, gentle, and effective treatment for dry eye symptoms caused by meibomian gland dysfunction. This non-invasive procedure is the first and only FDA-approved
intense pulsed light
 (IPL) treatment for dry eye management.
OptiLight uses precise pulses of light, done in the area below the eyes, to reduce dry eye symptoms. This 10-15 minute procedure can significantly relieve dry eye symptoms by:
Your eye doctor is the only person who can determine which dry eye treatment is best for you and your individual needs. During your next eye exam, ask us if you are a good candidate for OptiLight by Lumenis.
We are here to help you find relief from dry eyes. We always strive to offer our patients a comprehensive eye care experience, our goal is to provide you holistic care for dry eyes by attacking the root cause.
IPL Treatment for Dry Eyes
IPL Treatment, where we specialize in providing the latest and most advanced IPL treatments to help you achieve healthy, radiant skin. Our clinic in Staten Island is equipped with state-of-the-art technology, and our team of experts is dedicated to helping you achieve your desired results.

At Dr. Luna Xu's IPL Treatment, we offer a wide range of IPL treatments to address various skin concerns, including age spots, sun damage, fine lines, wrinkles, and hyperpigmentation. Our IPL laser in Staten Island is highly effective and safe, and our trained professionals will work with you to formulate a treatment plan that fits your specific needs and goals.

In addition to our traditional IPL treatments, we offer IPL treatments for dry eyes. Dry eye syndrome is common and can cause discomfort and vision problems. Our IPL treatment for dry eyes can help to reduce symptoms and improve overall eye health by increasing tear production and reducing inflammation.

At Dr. Luna Xu's IPL Treatment, we are committed to providing our patients with the highest quality care and attention. Our team will take the time to understand your unique concerns and goals, and we will work with you to develop a personalized treatment plan that fits your needs. Whether you are looking for a traditional IPL treatment or an IPL treatment for dry eyes, we have the expertise and technology to help you achieve your desired results.

If you are looking for an IPL treatment clinic in Staten Island, look no further than Dr. Luna Xu's IPL Treatment. Our clinic is equipped with the latest technology, and our team of experts is dedicated to helping you achieve your desired results. Everyone deserves beautiful, healthy skin and is committed to providing you with the highest quality care and attention.

Contact us today to schedule a consultation and learn more about our IPL treatments, including our IPL laser in Staten Island and our IPL treatment for dry eyes. Let us help you achieve the healthy, radiant skin you deserve.